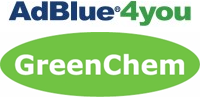 T R Jones & Sons are able to offer the a full range of GreenChem Adblue solutions from the 10L container up to the 1000L IBC with associated pumping equipment. We can also offer assistance if you require larger quantities of bulk product.
AdBlue is a high-purity urea solution complying with the DIN 70070 standard.
It complies with ISO and CEFIC regulations to safeguard the correct functioning of Selective Catalytic Reduction equipment (SCR) and chemically reduces NOx emissions from heavy-duty diesel powered vehicles.
Adblue is required for all Euro IV and Euro V trucks using SCR technology to meet the EU emission standards. At present SCR has been adopted by Hino, Renault, DAF, Dennis Eagle, Mercedes Benz, Volvo, Seddon Atkinson, Iveco and Foden to meet both Euro IV and Euro V. MAN, Scania and ERF will also adopt SCR in the near future in order to satisfy the latest Euro VI standard.
For further info and advice, please contact us at This email address is being protected from spambots. You need JavaScript enabled to view it.